Today, the 21st of April, is Earth Day. It's an opportunity to reflect on the impact we have on the earth and how to improve our efforts to protect the environment. This message is especially poignant for construction businesses as sustainability continues to propel those who champion it into the future.
The 10 years to the end of 2019 have been confirmed as the warmest decade on record by three global agencies. According to NASA, NOAA and the UK Met Office, 2019 was the second warmest year on record dating back to 1850.
The climate crisis is no longer a scientific prediction, it has arrived.
Where are we now?
The Scottish Government has set ambitious targets aiming for net-zero carbon emissions by 2045 and within recent weeks, the UK government has revised their deadline from 2050 to 2035. Although the Scottish construction industry only accounts for 6% of GDP, it contributes to more than 50% of Scotland's total waste production, over 40% of its carbon emissions and over 50% of total natural resource consumption, according to the Scottish Environmental Protection Agency (SEPA). These statistics are shocking but with every challenge comes a wealth of opportunity for business development and growth.
The global construction industry consumes resources at a phenomenal rate, one that the earth can't keep up with. Water is huge in mass in construction to make cement and if you have read our latest blog (Busting The Biggest Water Myth: World Water Day) then you'll know that water is the world's most consumed resource and contrary to popular belief, it's running out. By 2040, we won't have enough water to keep up with demand. Sand is the second most consumed resource in the world and a key ingredient in construction materials, such as concrete, but this resource is set to be depleted by 2050.
It's not all bad news. There is a very simple circular solution to overhaul resource management in the construction industry – repurposing its own waste. High quality recycled aggregates and other recycled products can be extracted from Construction, Demolition and Excavation (CDE) waste using sophisticated technology, like our own recycling wash plant, and can be substituted for carbon intensive virgin aggregates saving millions of tonnes of waste from landfill. These solutions are growing in popularity as the industry begins to embrace a circular economy.
SEPA has been clear that in order for waste to become a product there must be:
A demonstrable market
An ability to manufacture the product to a consistent specification
A similar level of quality to the 'virgin' product it is replacing.
Recent years have seen a notable positive shift in SEPA's attitude towards end-of-waste criteria and its willingness to help waste producers/processors meet their requirements.
A Snapshot of Current Measures
There are two main fiscal instruments, the Scottish Landfill Tax (£3.10/tonne) and Aggregates Levy (£2/tonne), in place to deter businesses from sending construction, demolition and excavation (CDE) waste to landfill and encourage the use of recycled aggregates. These measures are a step in the right direction towards more circular solutions, however there is still a huge volume of useful materials reaching landfills. Between 2016 and 2017, Scotland reported an increase of 2.4% (90,816 tonnes) of waste to landfill. Much of this waste was made up of soil and stones (+22.4%), showing that the current taxation through landfill tax is not enough of a deterrent, especially when viable recycling solutions exist.
In order to allow increased use of secondary materials, there must also be a review of UK construction standards to keep pace with the latest technology and research, such as those set by the BSI. For example, BS 8500 (published in 2015) still restricts the use of recycled aggregates in structural ready-mix concretes despite numerous pieces of research that encourage the standard to be updated to allow wider use of high-quality recycled aggregates. The construction industry's insatiable appetite for concrete is unlikely to ease anytime soon, especially when considering advancements in low-carbon cement such as Cemfree and in carbonated concrete (Carbon Cure) are available.
Regulatory pressure, via building standards, for an increase in the use of reused/recycled products, would also help with their mass adoption. The Scottish Government recently updated the Scottish Building Regulations and committed to ensuring all new public buildings built in Scotland are net-zero as standard. At a local level government level, the 'Choices for City Plan 2030' for Edinburgh's next Local Development Plan proposed that all new buildings and conversions are required to meet the net zero 'platinum level' standard as set out by the 'Scottish Building Regulations' but this is yet to be defined.
An Opportunity for Innovation
More can be done in Scotland to hasten the reuse and adoption of secondary materials in construction. One obvious way to reduce the volume of construction and demolition waste is to stop demolishing. An article published in The Guardian promotes the reuse of old buildings rather than demolishing and recycling them. With Brewster Bros working in the trade of recycled aggregates, it may seem counter-intuitive for us to be highlighting its content. However, the climate crisis is bigger than personal business interest and as an environmentally conscious business, we recognise that 're-use' sits higher in the waste hierarchy (see diagram below) than 'recycling'. We also specialise in recycling excavation waste created by new build projects, rather than demolition waste created by tearing down old buildings.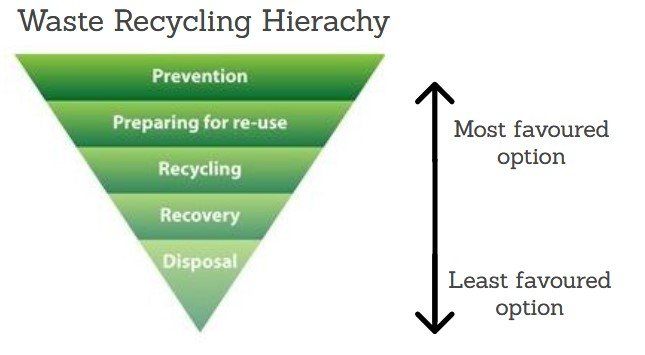 The UK is a long way behind some of our European neighbours in terms of 'Circular Construction'. The Netherlands, for example, are already fostering this new business model with companies like New Horizon who dismantle (not demolish) buildings, harvest them as urban mines and provide materials for upcycling / reuse to an established network of construction industry suppliers.
New technologies and innovations are developing thick and fast as businesses start to understand how vital becoming sustainable is. Our waste management services and sustainable products help our construction customers meet sustainability targets, overcome regulatory hurdles – which are set to increase in the future – and save money by avoiding stealth taxes in the process.
We are committed to continual innovation to meet and exceed the sustainability targets set for the construction industry and help our customers move to a more environmentally conscious approach to keep up with the future of construction.
The Future of Construction
Sustainable construction continues to grow in awareness and implementation as the construction industry comes round to a more circular approach. We have seen it first hand with an increase in tenders that specify recycled aggregates over virgin materials, which is encouraging. In order to meet the ambitious carbon-neutral targets being set by the Scottish Government for 2045, dramatic shifts in legislation and regulation are going to be required in addition to the ones that have already been implemented.
There is a wealth of new technologies, innovations and research supporting the argument for CDE industries to move to a circular economy approach and those who adopt early will thrive. After all, there is no business on a dead planet.